A History of the Museum Building
The Kodiak History Museum operates out of the National Historic Landmark building, the Russian American Magazin. 
The Russian American Magazin was originally built by company craftsman as a storage facility (magazin is the Russian word for store). Built circa 1808, its contemporary presence serves as a reminder that Kodiak was established in 1793 as Pavlovsk, the first permanent Russian settlement in North America, and served as territorial capital until 1808. The building is the oldest in Alaska, the oldest documented log structure on the west coast of North America, and the earliest built Russian structure in the United States.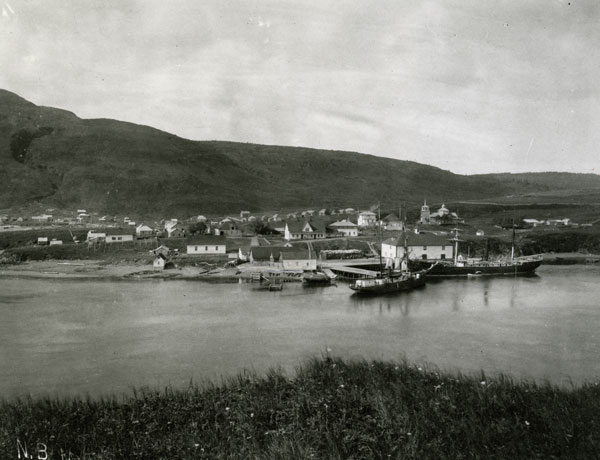 Kodiak Historical Society, P-353-40
When the territory came under American control, the building was acquired by the Alaska Commercial Company where it continued business operations until 1911, when it was purchased by W.J. Erskine. An employee of the Alaska Commercial Company and prominent businessman, Erskine converted the building into a private residence making improvements to the foundation, constructing finished rooms within, and enclosing the sunporch. For more than three decades, the building was known as the Erskine House and served as a social hub for the community of Kodiak: a place where weddings, social mixers, and newcomers to the island were welcomed. The building was later acquired by the firm of Donnelly and Acheson in 1948 and converted into a boarding house.
Following the 1964 Great Alaskan Earthquake and Tsunami, ownership of the building was transferred to the City of Kodiak and was leased to Kodiak Historical Society for use as a museum. The building was proclaimed a National Historic Landmark in 1962 and designated in the National Register of Historic Places in 1966. Initially the Kodiak Museum, it later became known as the Baranov (Baranoff or Baranof) Museum. In 2019, the Kodiak Historical Society Board of Directors renamed the facility the Kodiak History Museum to better serve its mission to preserve and share all of Kodiak's history.
Russian American Magazin Historic Structure Report
In partnership with the National Park Service and the City of Kodiak, an Historic Structure Report (HSR) of the Russian American Company Magazin is now complete. The 262-page document provides documentary, graphic, and physical information about the National Historic Landmark's history and condition. The report is an effective part of preservation planning, and addresses management goals for rehabilitation and care of the site.